Houses for Sale in Balıkesir | Villas in Balıkesir
Bursa Homes ® offers a wide range of real estate in Balıkesir. You can browse our website to find properties for sale in Balikesir that suit your needs and budget.
Why Balıkesir?
Balıkesir is surrounded by Çanakkale in the northwest, Bursa in the east, Kütahya in the southeast, and İzmir and Manisa in the south. Due to its location, the city has the characteristics of both the Marmara region and the Aegean region.
It also has a hybrid climate. While the coastline of Balıkesir has a Mediterranean climate, a continental climate can be observed in its interior areas. Thanks to the mild climate on the coastline of the city, the region has important tourism resorts.
Balıkesir was one of the important cities throughout history, especially for holiday purposes. The city founded by the Roman Emperor Hadrian has been a part of reigns such as Byzantium, Seljuk, Karesids, and Ottoman.
Balıkesir stands out not only with its historical places but also with its natural beauties. It has natural beauties such as Mount Ida, Şeytan Sofrası, and Manyas Lake. Balıkesir is also home to ancient cities such as Daskyleion, Antandros, Kyzikos, Adramytteion, and Prokonnessos.
Tourism is one of the sectors that have the greatest impact on the Balikesir economy. The city attracts tourists from all over the world with its blue flag beaches, historical background, and natural beauties.
However, the whole sector is not limited to holiday tourism only. Balıkesir also has a great impact on health tourism thanks to its thermal springs. Every year, thousands of people visit the city for the healing waters of Balıkesir.
On the other hand, Balıkesir is an important city in terms of mining and agriculture. People in Balıkesir earn their living from these sectors. While olive is the leading product in agriculture, the prominent product in mining is borax and gold.
Real Estate Investment in Balıkesir
Balıkesir, which is hosting thousands of foreign people every year, is one of the most important holiday cities in Turkey. The city, which has a major effect on the tourism, mining, and agriculture sectors, is one of the favorite cities for ex-pats for living and working in Turkey.
For this reason, the demand for real estate for sale in Balıkesir is increasing. Investors invest in different types of real estate in Balıkesir. The first choice of investors expecting regular rental income is to buy an apartment in Balikesir, Turkey.
Companies that want to open an office in Balıkesir or investors who will make industrial investments prefer commercial real estate in Balıkesir. Thus, they are not only making an investment but also establishing a business or expanding their business.
Investors who aim for long-term but high profits want to buy land for sale in Balıkesir. The constantly developing and growing city always needs new facilities or housing. For this reason, land investment becomes more popular.
Not all people, who bought land in Balıkesir, consider it as an investment. Some of them want to build their dream house instead of buying a house in Balıkesir. Balıkesir, which stands out with its sea, nature, and calm surroundings, is a good option for this.
Houses for Sale in Balikesir Turkey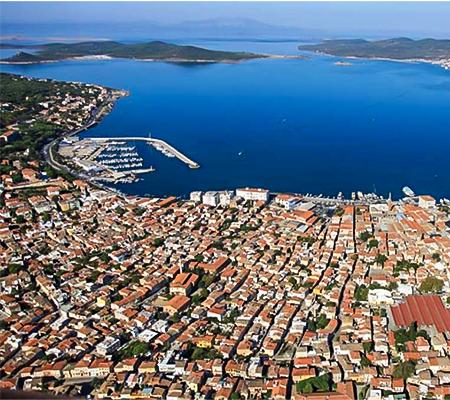 All kinds of real estate can be found in Balikesir. Everyone can find real estate that suits their wishes and budget. While flat-type residences are common in the city center, villa-type residences become more common as you get closer to the seaside towns.
As we mentioned before, Balıkesir is a holiday city. It is home to thousands of tourists every year with its beautiful districts. However, there are hundreds of people who choose to settle in Balikesir for their retirement life.
For this reason, it is easy to find villas to buy in Balikesir. Since villas in Turkey Balıkesir are a quite common type, it is not a difficult task to find suitable homes for every budget and need. This is one of the biggest reasons why people prefer this city for their quiet retirement life.
If you are considering buying homes for sale in Balikesir, we recommend you work with an expert who can offer you the best options according to your needs. Bursa Homes offers you the best options under the best price guarantee with its wide real estate portfolios. You can find houses suitable for your needs on our daily-updated website.
Best Regions to Buy a House in Balikesir
Ayvalı&Cunda: Once Ayvalık was quite popular, but it has lost its popularity over time. However, it has not lost its beauty. It is still one of the first choices of people looking for a quiet life in nature with its small villages, Ayvalık Island Nature Park, and Cunda Island.
Edremit: The region that hosts Mount Ida is one of the best-known districts of Balıkesir. The region, which attracts attention with its ancient cities, blue flag beaches, and mountain villages stretching out to the sea, is very popular among tourists.
Burhaniye: This region is one of the first choices of people who want to camp close to the sea, in touch with nature. The region, which has its own beauties, also stands out with its beaches.
Manyas: The region, named after the lake it hosts, is a small settlement in nature. Manyas Lake, which has the Bird Paradise National Park, is on the world heritage list by UNESCO. The lake, which is home to more than 200 bird species, offers a life with nature.
Marmara Islands: Consisting of 14 large and small islands, the region is one of the best places for people who seek tranquility, but not too far from amenities. The region, which stands out with its historical textures and blue flag beaches, is an indispensable region for people seeking tranquility.
Gönen: It is the most known district in Balıkesir with thermal springs. The region, which is famous for its thermal springs, welcomes hundreds of tourists every year.
For more information about properties for sale in Balıkesir, you can contact us or visit us at our Bursa office.
Sorry, we couldn't find a property for sale matching your search.
We recommend the following:
• Check your search filters are correct.
• Modify your search parameters and try again.
• Save search so we can let you know as soon as a matching property becomes available.
Couldn't find the page you are looking for? It might have been moved. Please Contact our Experts for the Info!